Anime and Manga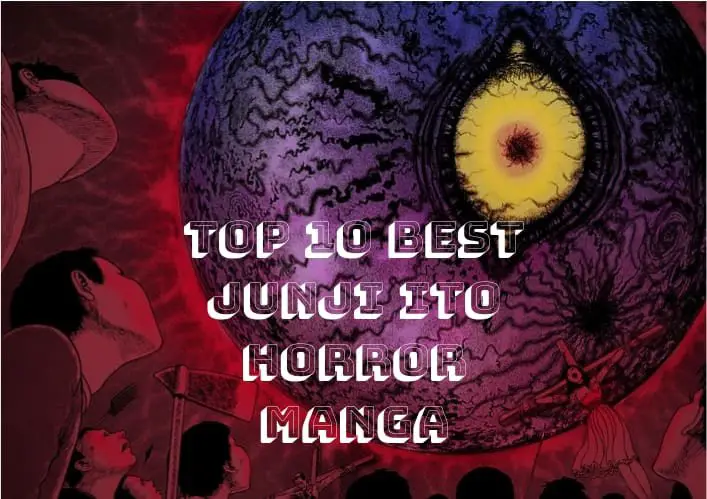 Top 10 Best Junji Ito Horror Manga of All Time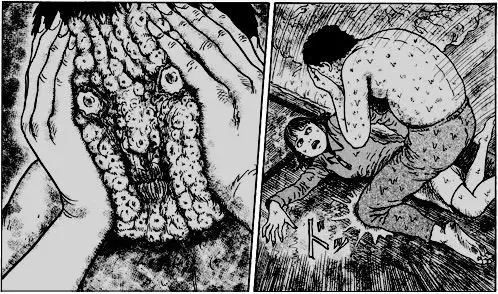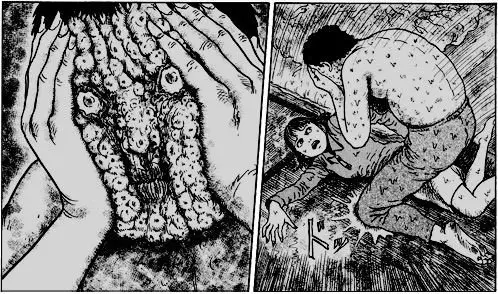 Mr. Junji Ito certainly has a knack for creating creepy stories and it's no surprise why he's one of (if not the best) horror manga authors in Japan.
Some of you may have heard of him and some of you may not have but after reading this post, you'll get to know a bit more about his works and his style of horror.
If you're not into horror then I'd advise you not go any further. Ito has a very unique style of horror and his illustrations are equally terrifying.
Well, then what are we waiting for? Here is the list of Best Junji Ito Manga that I have curated for you. They are Junji Ito's Top 10 creations and loved by anime fans all over.
••••••••••••••••••••••••••••••••••••••••••••
10. "CHILDREN OF THE EARTH"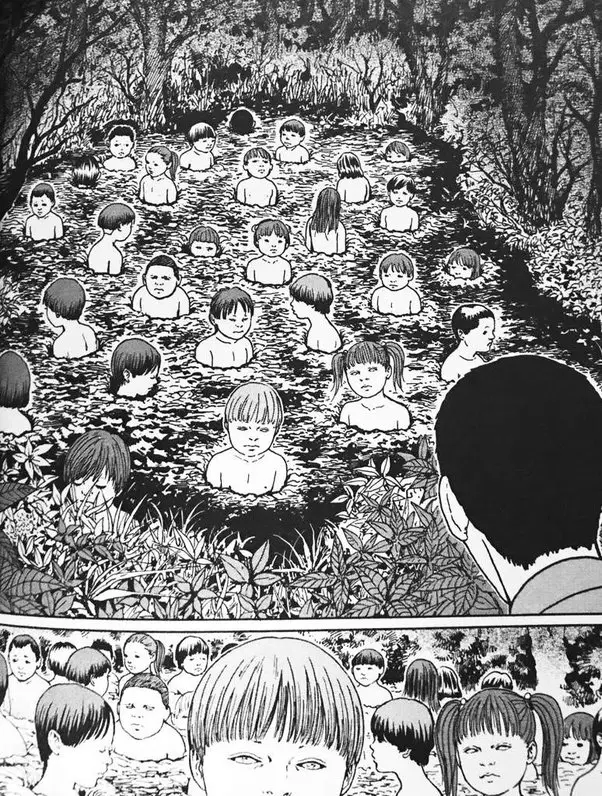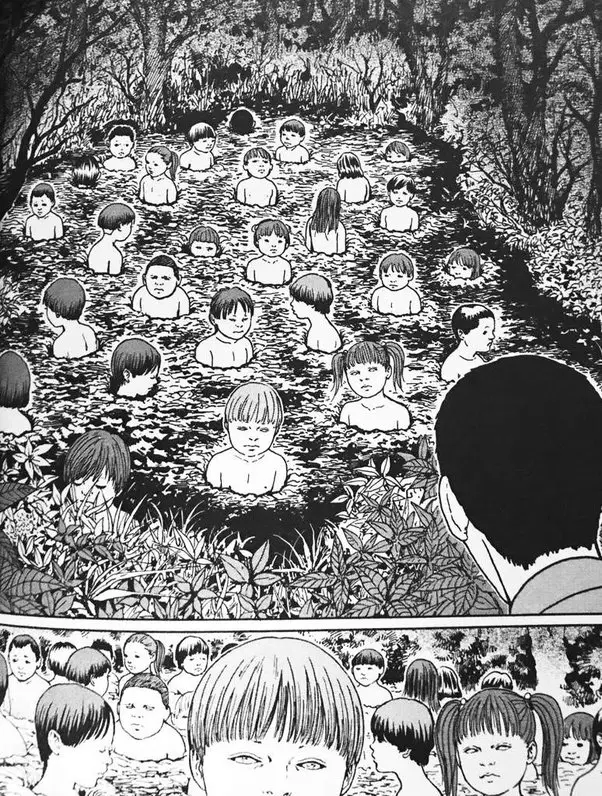 This story starts off strange immediately.
Several children are reportedly found submerged chest high in a muddy substance.
This is a very short story so I won't spoil it for you. It's not a happy ending. Highly advise you to check it out.
••••••••••••••••••••••••••••••••••••••••••••
9. "DISSECTION CHAN"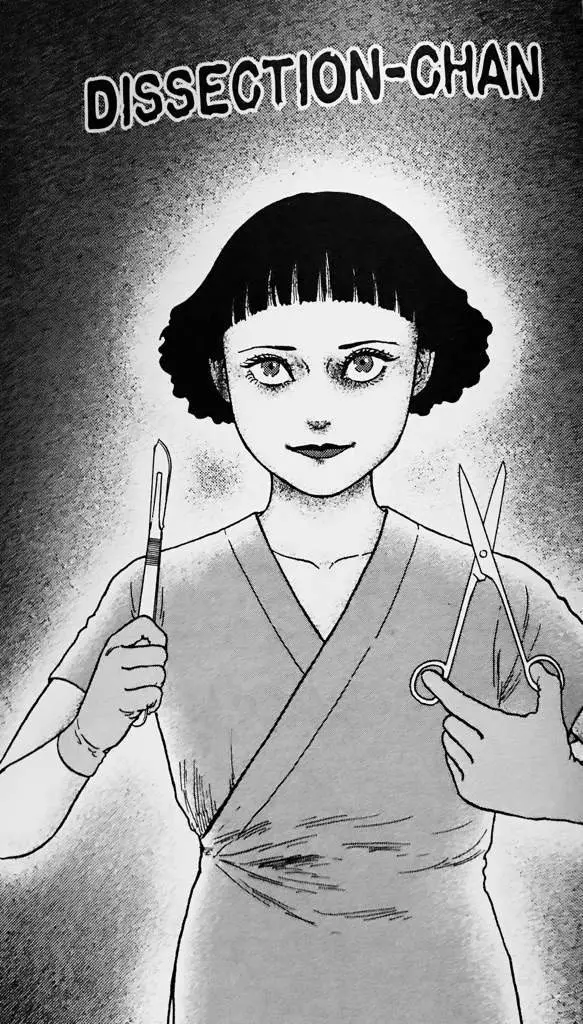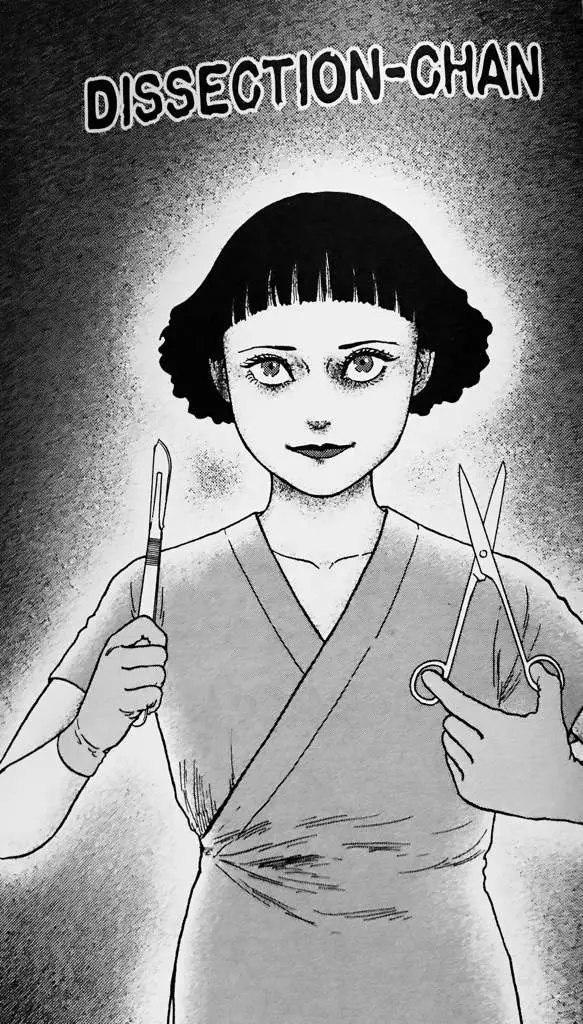 As you can already tell from the title, you're in for a weird story.
This story is about an apparently mad young girl who is intent on being dissected. This leads to her sneaking into hospitals, stalking old classmates and more.
The conclusion is unexpected!
There must be a reason why she is obsessed with dissection right?!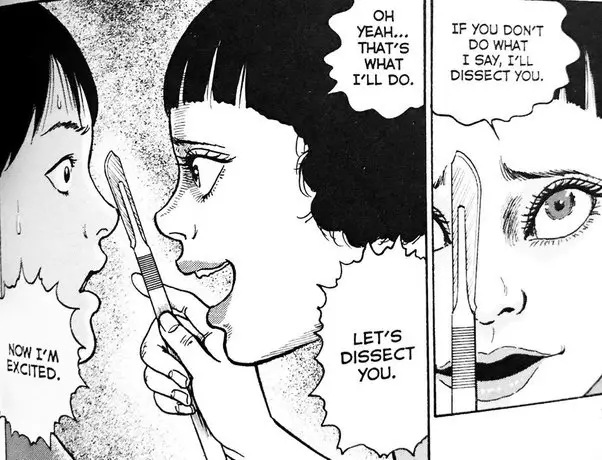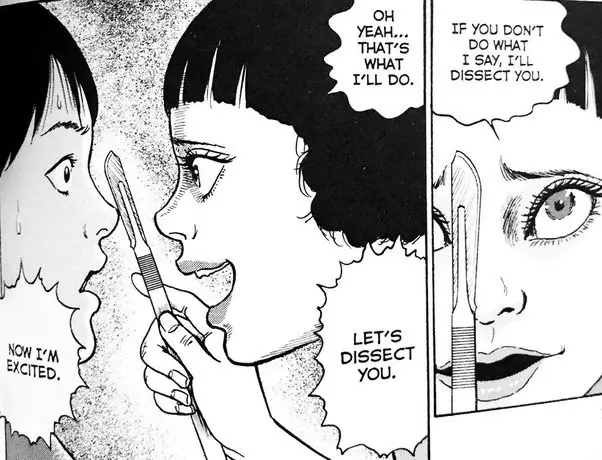 ••••••••••••••••••••••••••••••••••••••••••••
8. "BLACKBIRD"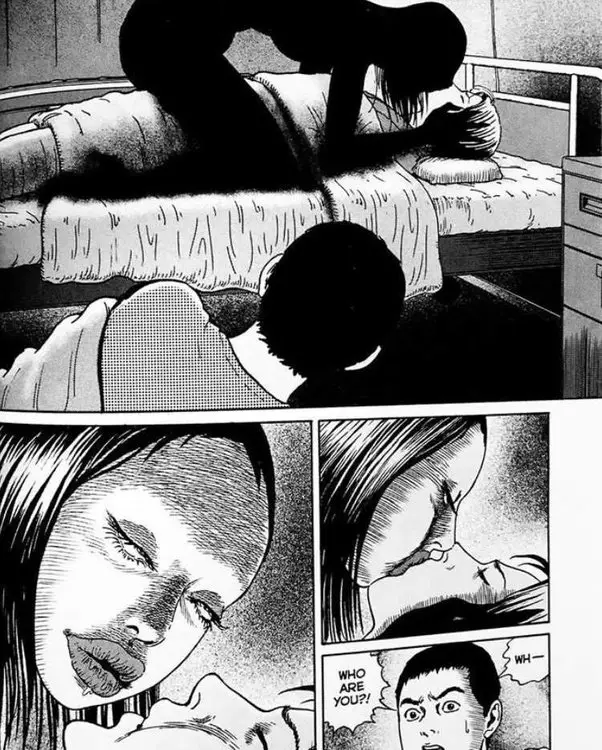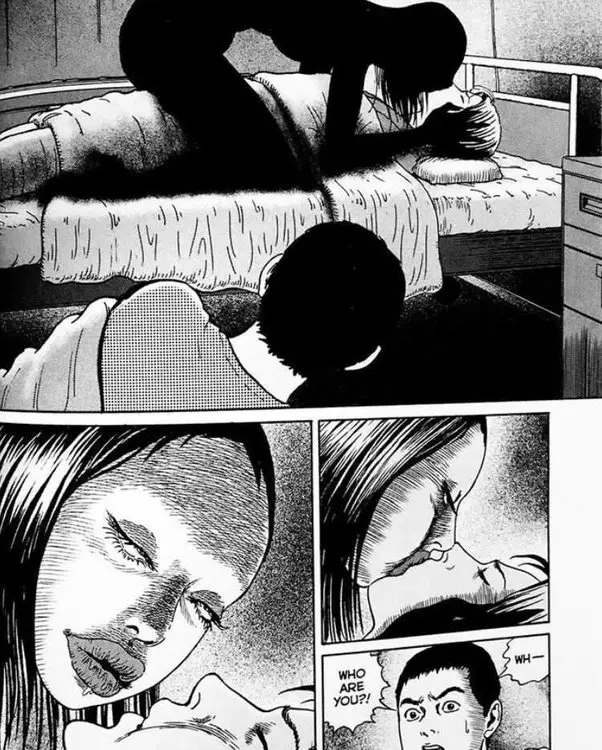 A man has a near-deadly fall on a mountain and he is left in critical condition on the mountain unable to move.
As he lays near death from starvation, a mysterious "woman" appears and feeds him an unknown chewed up substance from her mouth. This continues for days until he is rescued.
However, while he is in the hospital the woman continues to visit him and mouth feed him.
He eventually heals and leaves the hospital but a few days later his body is found on a mountain. The woman/bird-woman creeped me out a lot.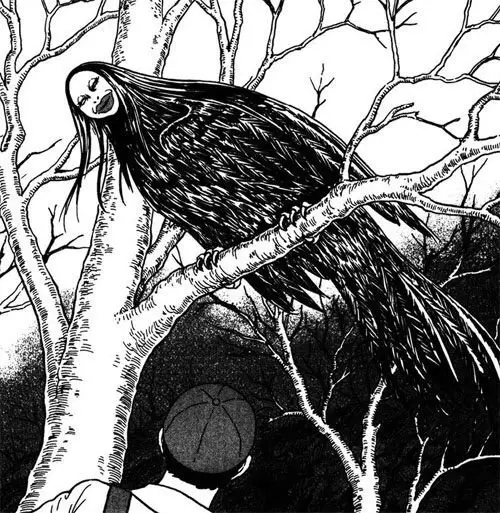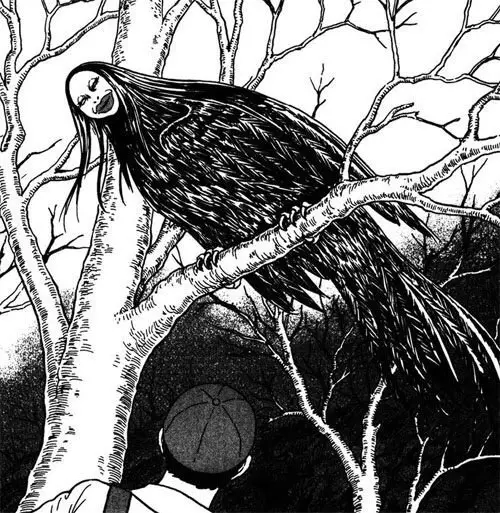 ••••••••••••••••••••••••••••••••••••••••••••
7. "THE ENIGMA OF AMIGARA FAULT"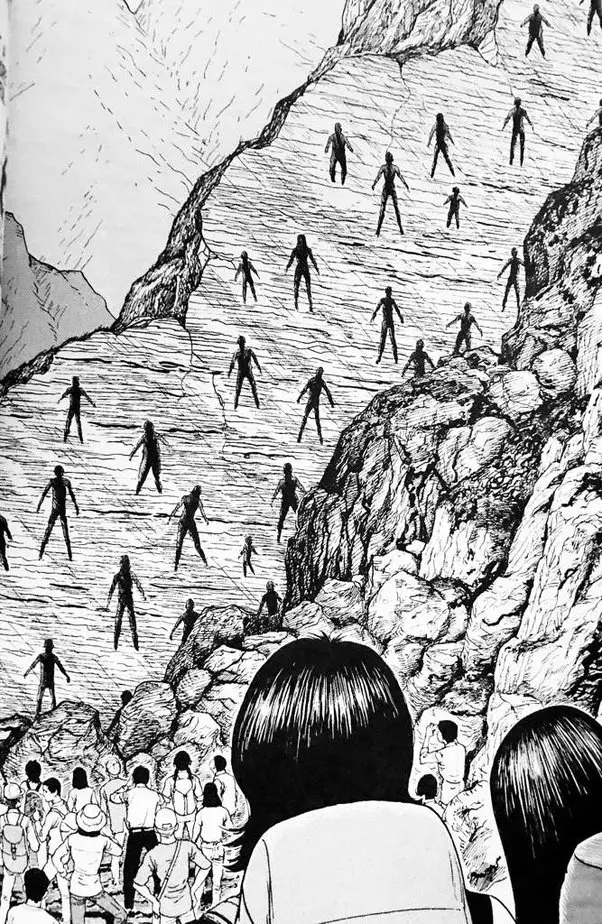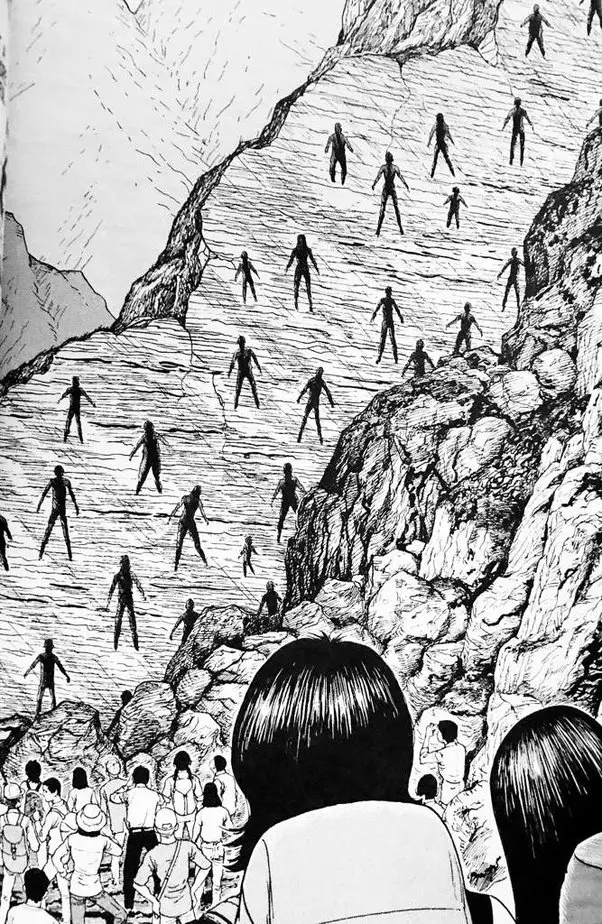 This is a short manga story found after the GYO manga.
It shows the reader a strange mountain that has human-shaped holes in it.
Even worse, people have actually fallen into these holes while investigating them. Some have felt the holes "calling" to them.
Major claustrophobic stuff in this story!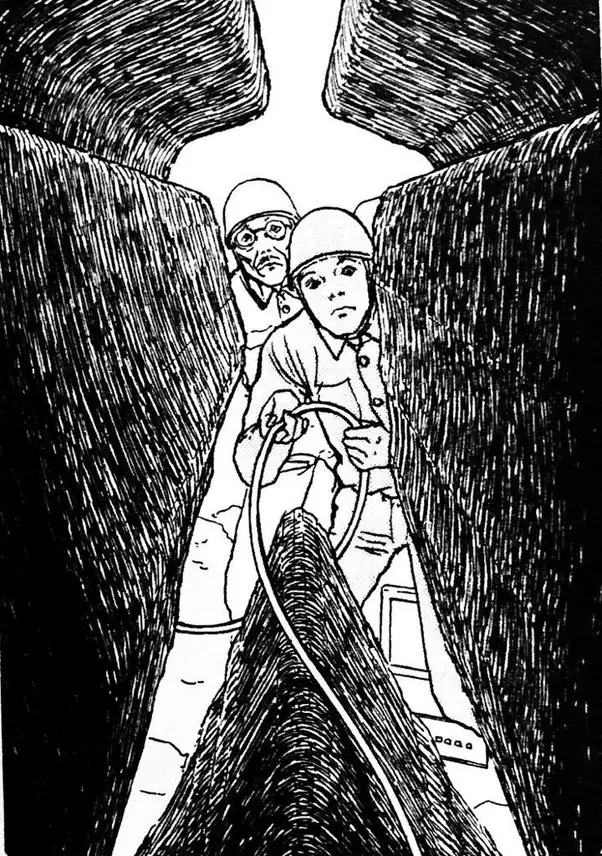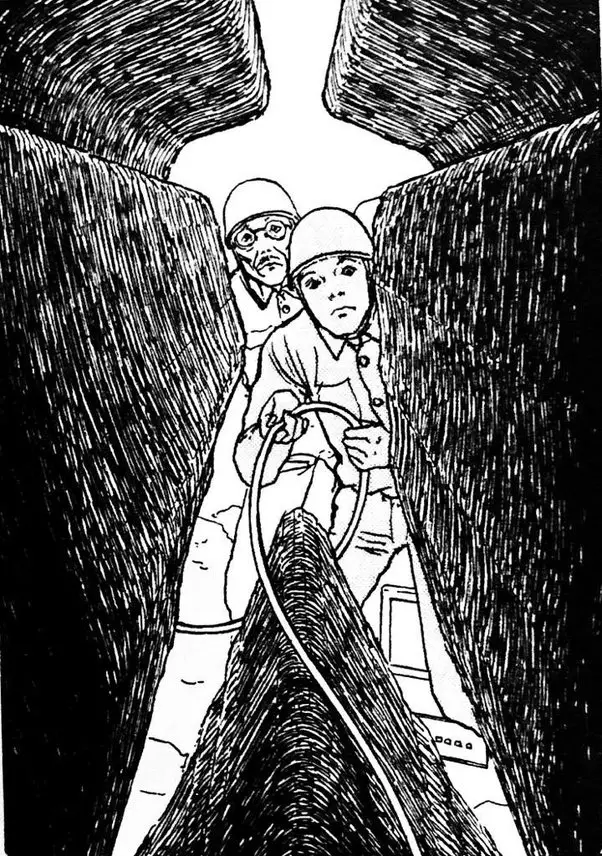 ••••••••••••••••••••••••••••••••••••••••••••
6. "RED TURTLENECK"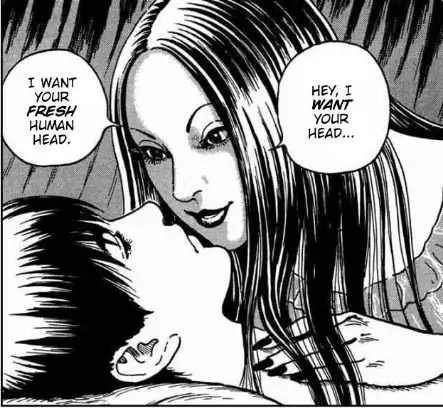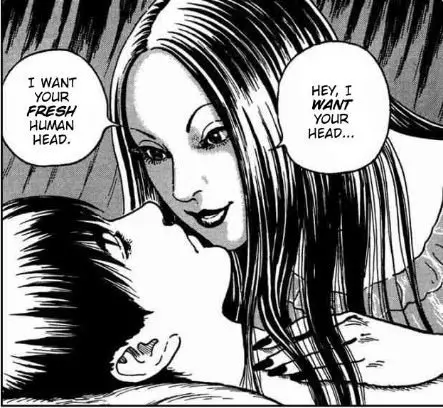 This leaves Tomio holding his head in place so he won't die. The witch wants to add his head to her collection so Tomio quickly runs to his girlfriend for help.
This leaves Tomio holding his head in place so he won't die. The witch wants to add his head to her collection so Tomio quickly runs to his girlfriend for help.
This leaves Tomio holding his head in place so he won't die. The witch wants to add his head to her collection so Tomio quickly runs to his girlfriend for help.
This story here is another one where the "antagonist" really scared me.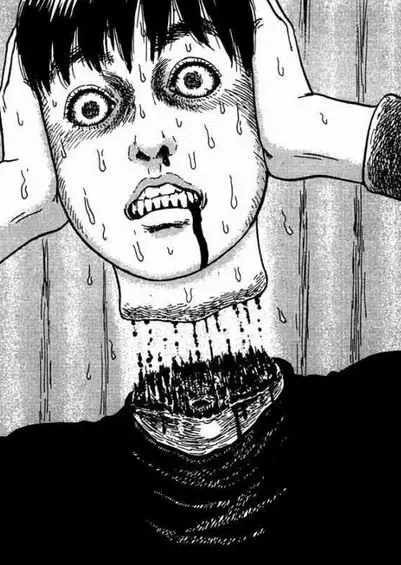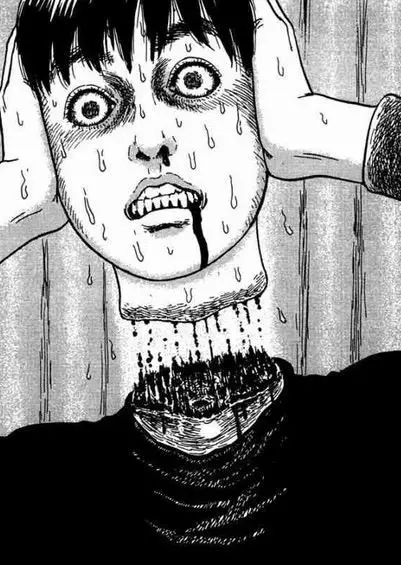 ••••••••••••••••••••••••••••••••••••••••••••
5. "WHISPERING WOMAN"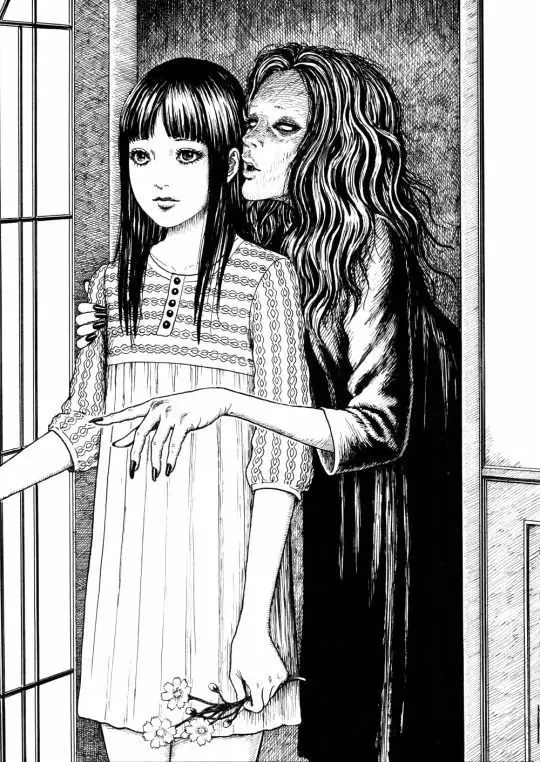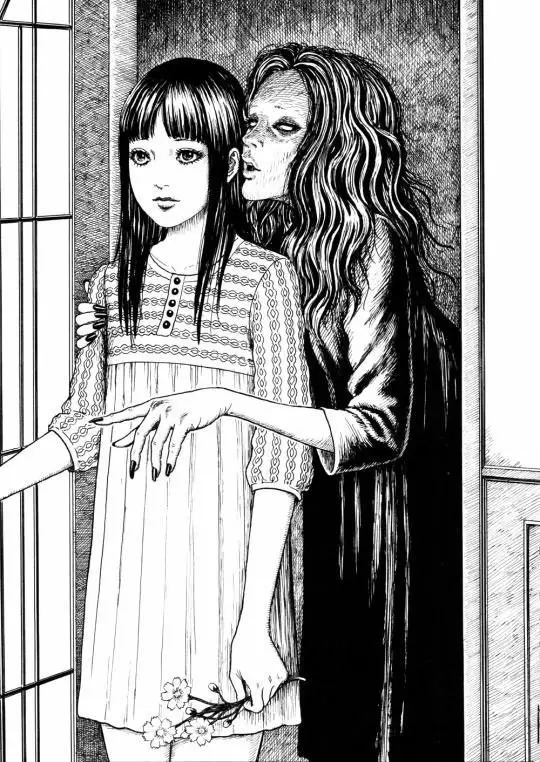 Now this one here is kind of sad when you think about it.
Here we have the story of a young girl (Mayumi) who is the daughter of a wealthy family.
She suffers from a mental illness whereby she must be given specific instructions at all times as to what to do or say.
Otherwise, she will be crippled by indecision and unable to do anything for herself.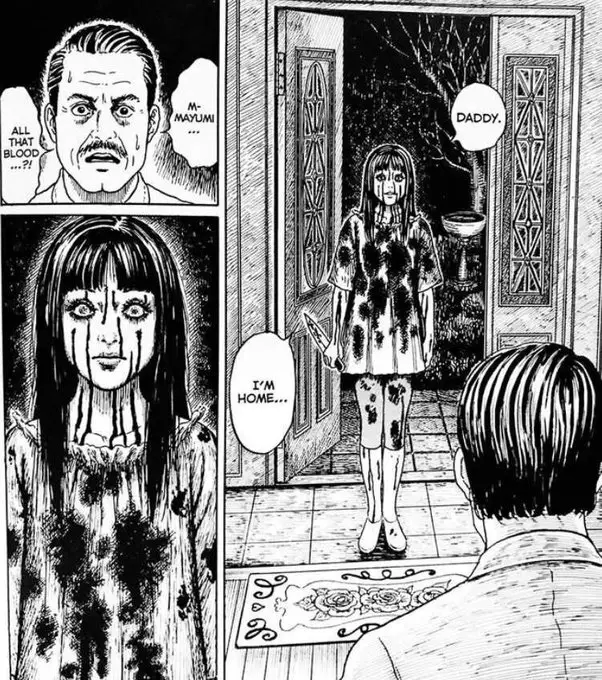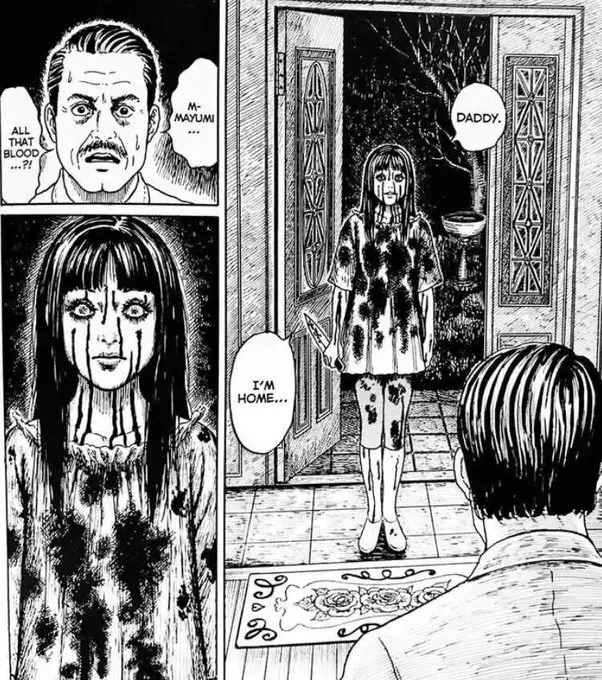 Her father has encountered problems finding an attendant/maid who can tolerate Mayumi's illness.
Eventually, he finds a strange woman named Mitsu Uchida who manages to actually communicate with Mayumi through whispers and hand signs.
Mayumi seems to be improving until the sudden death of Mitsu at the hands of her abusive boyfriend.
Oddly enough, even after the death of Mitsu, Mayumi still talks to her as though she were there. It isn't until one night when Mayumi comes home drenched in blood that her father finds out what they were talking about.
••••••••••••••••••••••••••••••••••••••••••••
4. "DISSOLVING CLASSROOM"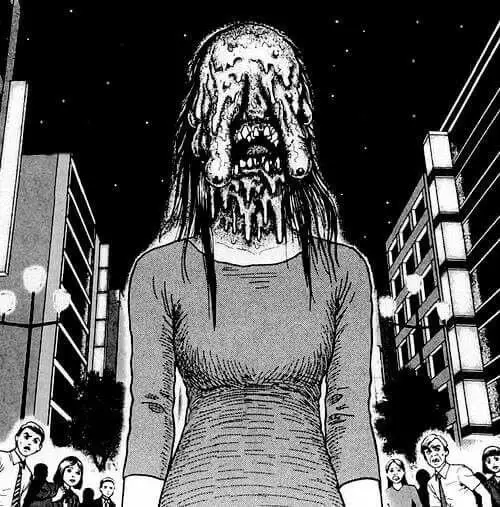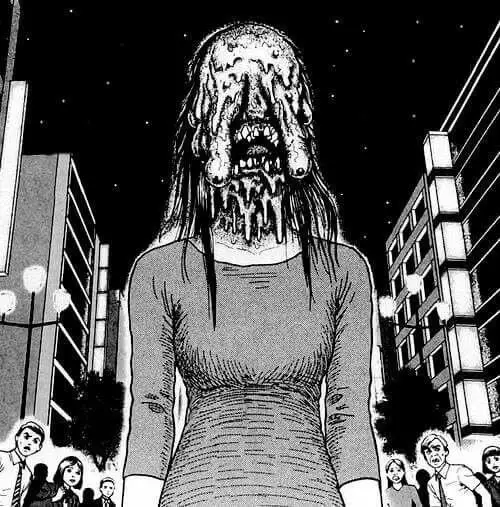 Where do I begin with this one?
The story revolves around two siblings. Yuuma and Chizumi. Yuuma worships the devil and Chizumi is just flat out creepy and loves to eat brains.
Wherever these two go, terrifying fates befall those who they come into contact with. One such fate is dissolving into a putrid goo-like substance.
Saying that these two have problems is an understatement.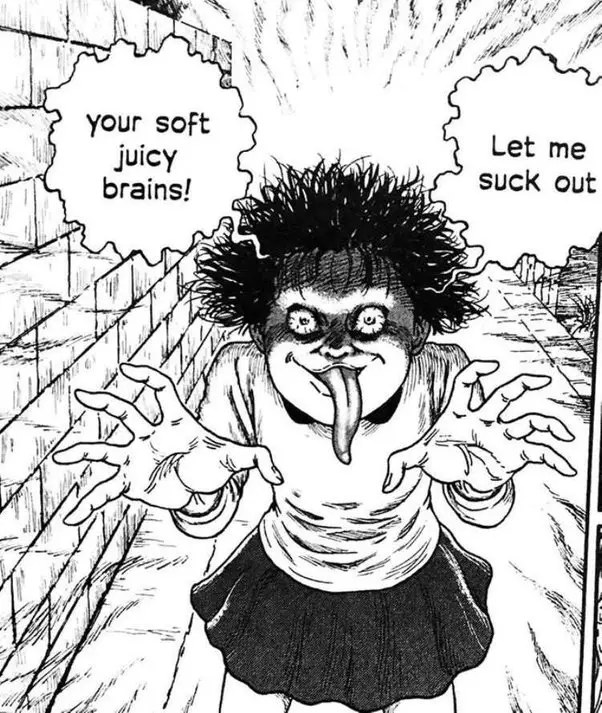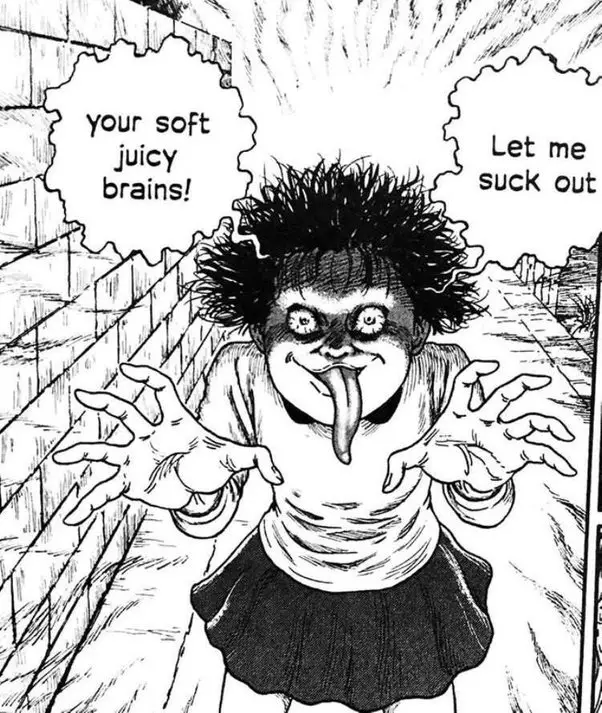 Yuuma may seem like a nice guy but don't be fooled. His strange habit of constantly apologizing has a purpose.
His apologies are a conduit the devil uses to turn anyone who hears his apologies into goo. He apparently sacrificed his parents to the devil in his obsession.
Dissolving classroom is an all-around great story. One of Junji Ito's best stories to date.
The ending of Dissolving Classroom is crazy!
••••••••••••••••••••••••••••••••••••••••••••
3. "GYO"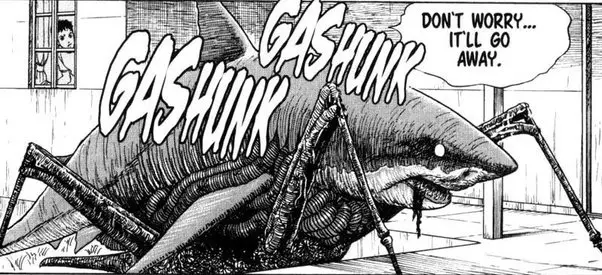 You know how Sharks are terrifying predators in the sea? Yeah?
Well, what if they had legs to move around on land and could breathe air? Nowhere to run now (mostly).
What you get is the premise of "GYO". Fish have begun to invade the land and begin to swarm cities and villages.
Spider fish attack and they're scarier than you think. They also smell extremely bad.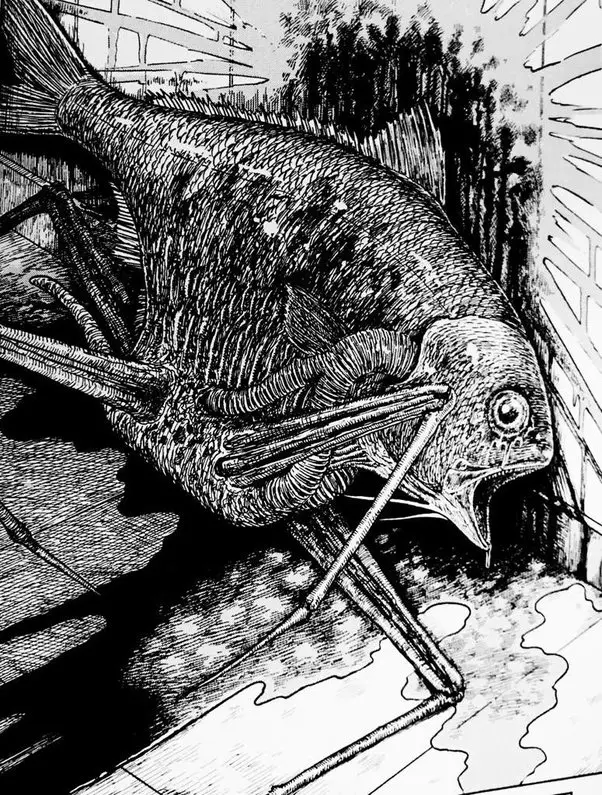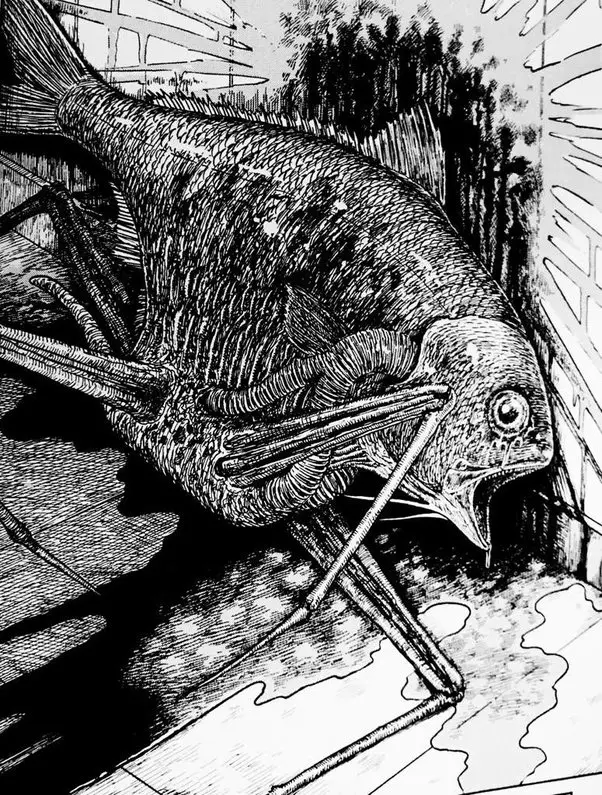 During World War II, the Imperial Japanese Army commissioned a secret experiment to create biological weapons.
The end result – a deadly bacteria that infected corpses and released nauseous gases, and a walking mechanism fueled by these gases, for the purpose of spreading infection.
GYO is more science fiction than any other entry on this list but it is equally awesome.
••••••••••••••••••••••••••••••••••••••••••••
2. "TOMIE"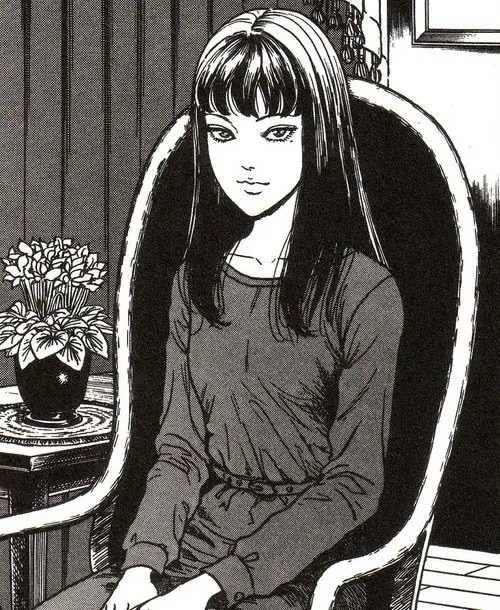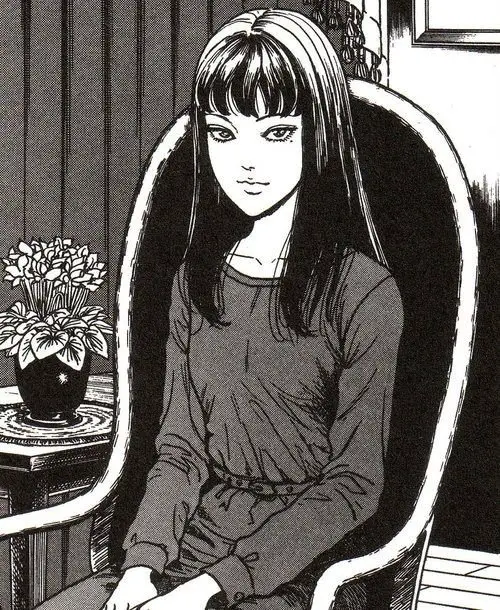 This one is amazing from start to finish. "Beauty" turns into a malicious weapon by Ito in "Tomie".
The manga centres around the titular character: a mysterious, beautiful woman named Tomie, identified by her sleek black hair and a beauty mark below her left eye.
Tomie acts like a succubus, possessing an undisclosed power to make any man fall in love with her.
Seduction isn't even the word. Check this one out. "Nuff Sed".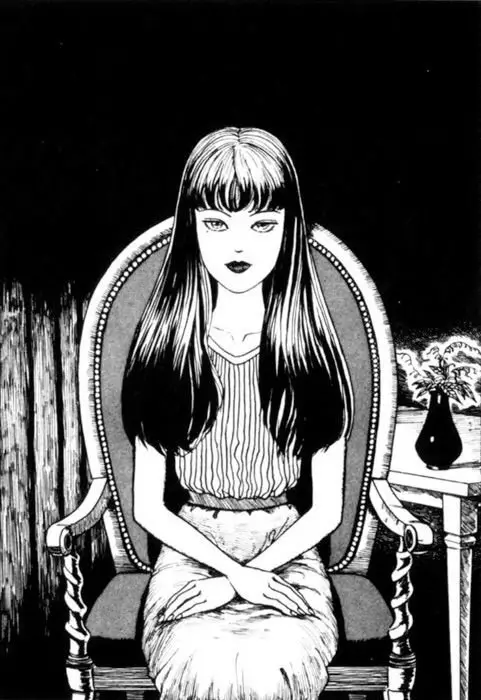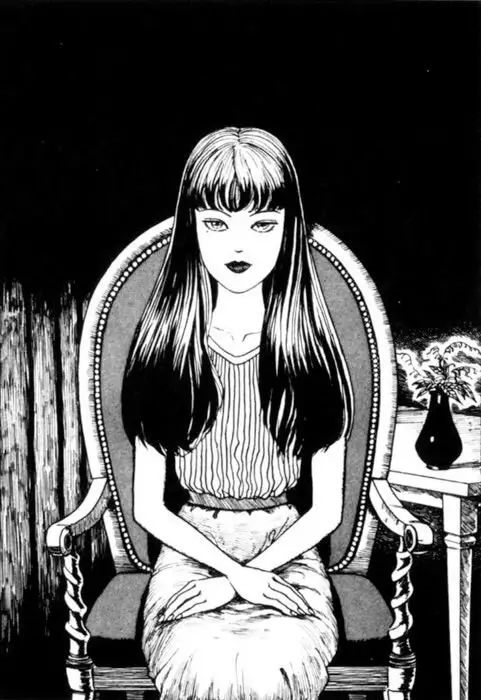 ••••••••••••••••••••••••••••••••••••••••••••
1. "UZUMAKI"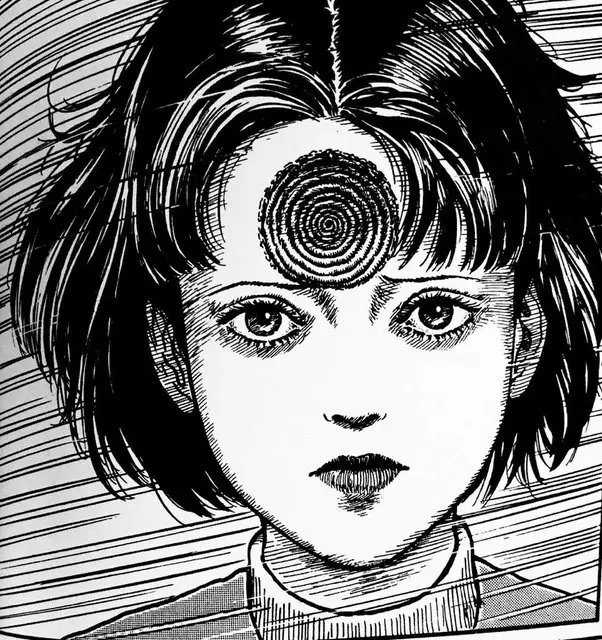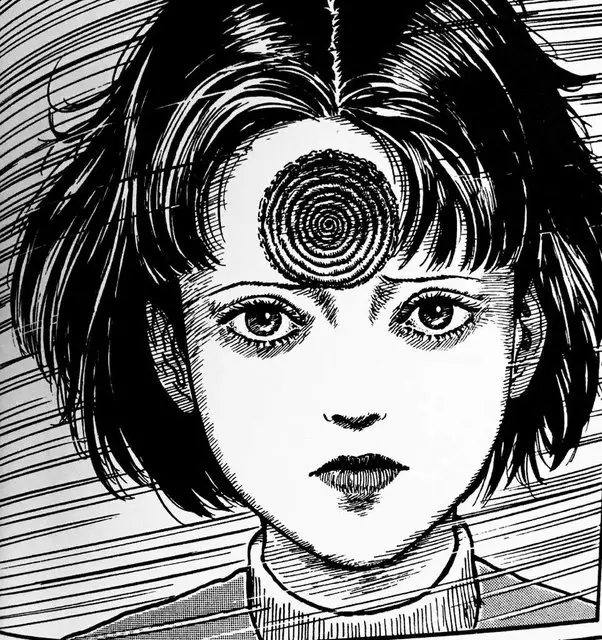 My absolute favorite junji Ito manga.
A story where the antagonist isn't a person, beast, or machine. It's a shape! The spiral!
The small harbor town of "kurozu-cho" is haunted by the ominous spiral.
The story follows Kirie and her boyfriend Shuichi as they try to survive the curse of spirals on the town. It manifests itself everywhere. As anything!
That's what makes the story so terrifying. Something as mundane as a spiral being turned into an object of terror is fascinating.
Seeing the way that the spiral kills people is actually pretty freaky too but, I'll let you guys see that for yourselves.
Uzumaki is a horror masterpiece and I highly recommend it if you truly love horror.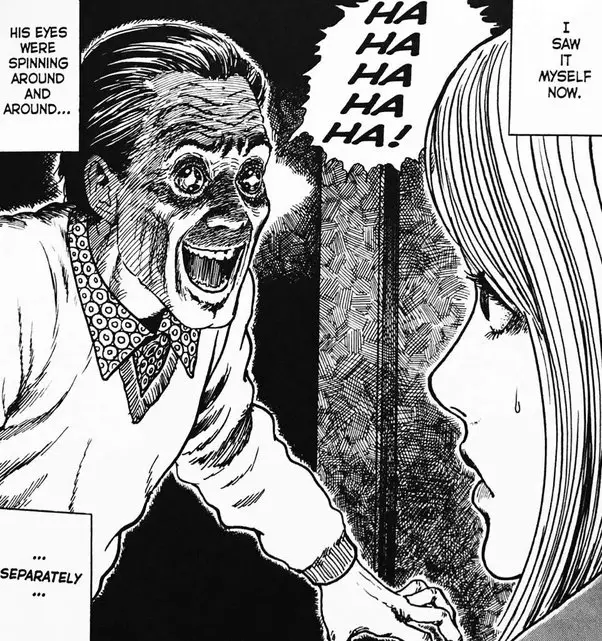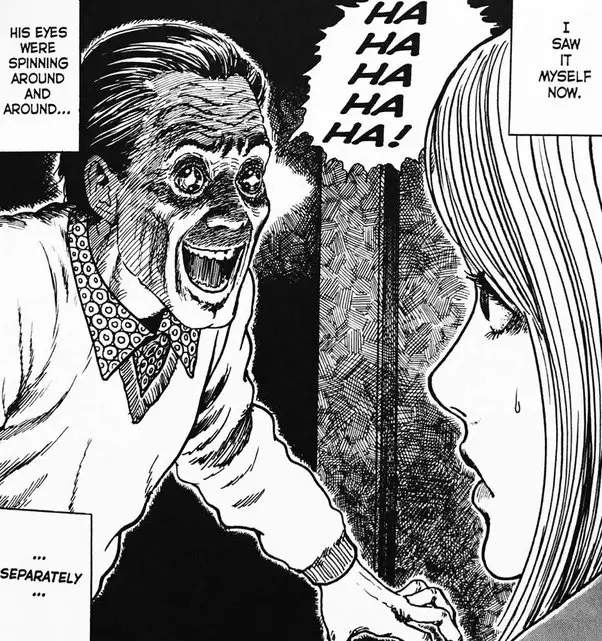 ---
If you liked our article on Best Junji Ito Manga and would like to immerse in more of such interesting reads then you should head to our homepage by clicking this text. Happy Reading! 🙂